Summary of Dr. Del Siegle's Leadership, Teaching, Scholarship, and Service Activities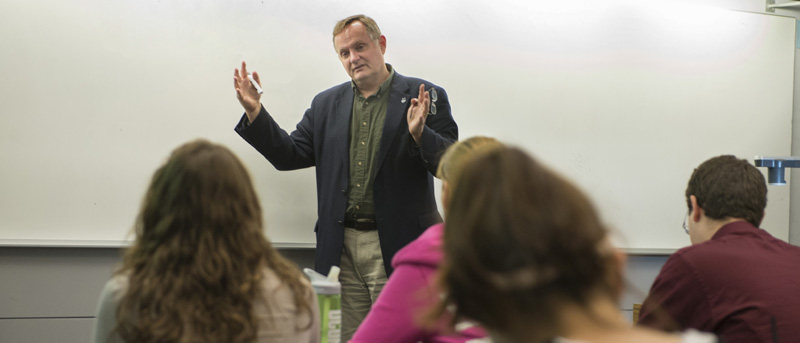 Dr. Del Siegle is the Lynn and Ray Neag Endowed Chair for Talent Development in the Neag School of Education at the University of Connecticut (UConn). He is among a select group of university professors who has been honored as a teaching fellow. This is the highest honor the University can award for outstanding teaching. He has also received the Neag School of Education's Outstanding Alumni Young Investigator Award for his research in gifted education. In 2016, he received the Palmarium Award from Denver University, which is given yearly to the individual most exemplifying the vision of a future in which giftedness will be understood, embraced, and systematically nurtured throughout the nation and the world.  He teaches graduate courses in educational research, creativity, the social and emotional needs of gifted students, and the Schoolwide Enrichment Model. Under his direction, UConn was one of the first universities to offer online courses in gifted education and an online master's in gifted education.
Prior to earning his PhD, Dr. Siegle worked as a gifted and talented coordinator in Montana. In that role, he developed and coordinated a gifted and talented program for academically talented students. While in Montana, he served on the board of directors of the state gifted and talented organization and also served as president of that organization (Montana Association of Gifted and Talented Education). A student scholarship honoring him is awarded each year to a deserving student. He was also recognized as a Montana semi-finalists for the U.S. West Outstanding Teacher.
Dr. Siegle is a past president of the National Association for Gifted Children (NAGC). NAGC is the largest organization in the United States, and in the world, dedicated to promoting the needs of gifted and talented children. He received the NAGC Distinguished Service Award in 2011 and the NAGC Distinguished Scholar Award in 2018. In addition to having served as its president, Dr. Siegle has served as secretary and a member of the board of directors. Dr. Siegle is also a past member of the board of directors of The Association for the Gifted (CEC-TAG) and past chair of the AERA Research on Giftedness, Creativity, and Talent SIG. These are the three top organizations in the United States dedicated to gifted and talented education.
Dr. Siegle was founder and co-editor of the Journal of Advanced Academics, he recently completed a term as co-editor of Gifted Child Quarterly, the top ranked research journal in the field of gifted education, and authors a technology column for Gifted Child Today, one of the most widely distributed publication in gifted and talented education. He joined Dr. Gary Davis and Dr. Sylvia Rimm as a co-author of the sixth and seventh edition of the popular textbook, Education of the Gifted and Talented. This textbook is the most widely used textbook in the field of gifted education. He is also author of The Underachieving Gifted Child: Recognizing, Understanding, and Reversing Underachievement.
Dr. Siegle has made over 650 state, national, and international presentations on gifted and talented education. He has also published over 100 articles, book chapters, and books on the topic. Dr. Siegle's research interests include the motivation and underachievement of gifted students, teacher bias in the identification of students for gifted programs, and using technology to differentiate instruction. He is co-founder of Edufest, a week-long gifted education summer training program at Boise State University. Over the past 20 years, over 6000 educators have attended Edufest. He is a popular presenter and featured speaker at Confratute, the world's largest summer teacher training institute that is held on the campus of the University of Connecticut.
Dr. Siegle is director of the National Center for Research on Gifted Education, the federal government's only funded national center on giftedness. Through research, development, evaluation, and national leadership activities, NCRGE is providing the research necessary to increase understanding of identification policies and procedures, instructional approaches, program curricula and content, and stakeholder involvement that contribute to gifted and talented students fulfilling their academic potential. The emphasis is on understanding effective practices with underserved populations.